BASICS OF FOREIGN EXCHANGE #
DIRECT QUOTE:- Home currency denoted as one unit of foreign currency Eg. $1= ₹ 65
INDIRECT QUOTE:- Foreign currency as one unit of home currency Eg. ₹1= $ 0.0154
BID ASK RATES #

Exam note:- If transaction is in between interbank market to BANK then interbank market will quote. (Similar to question in question bank)
Net exposure (IMP) (FRM PART I May 17 EXAM) #
Net position exposure (Say USD) = (USD  Asset – USD Liability) + (USD Bought – USD Sold )
IF ANSWER IS + THEN BANK IS NET LONG AND  ( – ) THEN NET SHORT
(Note: Refer question bank and its alternate possible variation to be asked in exam in Q No 13 in Question bank Pro)
FOREIGN EXCHANGE TRADING ACTIVITY #
4 KEY TRADING ACTIVITY
INTERNATIONAL COMMERCIAL BUSINESS TRANSACTION SALE/ BUY OF GOODS ETC
TAKE POSITION IN REAL FOREX INVESTMENT
OFSETTING EXPOSURE – HEDGING
SPECULATING OF FOREIGN CURRENCIES.
PARITIES (PURCHASING POWER PARITY) VIMP (MAY 16) #
States exchange price should be reflective of  purchasing power in both the countries.
Forward rate calculation using purchasing power parity.
F= FWD rate       IH = inflation in home currency
S= SPOT rate       IF = Inflation of foreign currency
PARITIES (Interest Rate) VIMP #
Forward rate calculation using interest rate parity.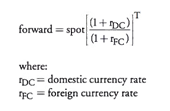 Note:- Solve all the questions from the question bank given on these two concepts
If interest rate is in continuously compounded.
RELATION BETWEEN  (Int. Rate and inflation) #
(1 + Nominal rate) = (1+ Real Rate )(1 + inflation rate)